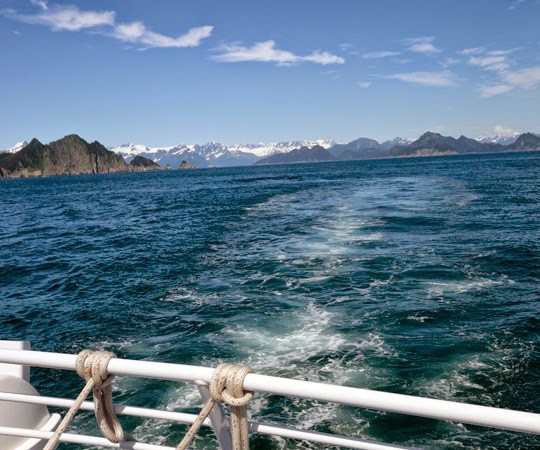 Whales, Puffins and Glaciers on a Boat Tour of Kenai Fjords, Alaska
After a few days of heavy rain in Alaska, we were served up absolutely gorgeous weather in Seward for our day at sea. Nothing but clear skies and warm temperatures as we set off on a six hour wildlife and glacier boat tour with Kenai Fjord Tours (the 11:30).
I was quite excited for a day where the weather and activity allowed me to dress in one of the more over-the-top Alaskan outfits from my carry-on bag. 9 out of 10 people on the boat were wearing zip-off hiking pants, while I went with a little black dress layered with best-of-the-yukon accessories:
Within a few minutes of leaving the harbor and eating the provided light lunch, we were already starting to spot all kinds of wildlife.
Along with coastal mountain goats, seals and bald eagles, we saw horned and tufted puffins nesting in the rocky cliffs. Adorable!
We saw our first humpback whale just a few minutes later.
The captain zoomed the boat over to an area packed with humpback and fin whales. I'm not actually that into whales, so of course, while everyone else was looking this direction….
…Rob and I were staring off at the sea on the empty side of the boat and saw a young humpback jump fully out of the water just a few feet from us and splash the side of the boat in a huge cannonball. It happened too fast for me to get a photo, but it was just like this. We spent a long time floating and watching the whales before motoring down to Aialik Glacier. A lovely sailboat with a junk-stye sail was just leaving when we arrived.
Once again, we were looking off in the opposite direction while everyone else watched a black bear on the beach when, this time, the glacier behind Rob started a massive calve.
Tremendously loud as tons of ice broke off to hit the water. Quite a lucky day of nature-spotting for us! Those gray spots are harbor seals and otters relaxing on the ice flow in front of the glacier.
We looked for orcas on the route back to Seward, but didn't spot any. The crew baked a batch of fresh chocolate chip cookies for everyone on-board as a final treat.
I highly recommend this tour company if you're thinking about sightseeing out of Seward.
Pro tips: Wear anything you want – you're not getting off the cozy, warm boat for 6 hours – but do bring a warm jacket. It gets a lot colder near the glacier. Bring binoculars, a water bottle and lots of sunblock.