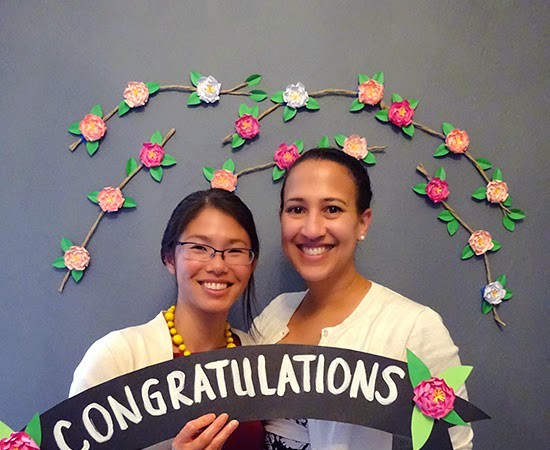 Bridal Luncheon – with Wine Tasting! – for Margaret
Margaret's wedding in August will be here before we know it! As bridesmaids, Jackie and I have been scurrying to host these parties in between our crazy schedules. She just recently returned from a stint in Africa for work and I'm about to head off on our big Spain/Morocco stay. You'd never sense the rush from looking at the pretty and thoughtful shower Jackie hosted last weekend to honor our favorite bride in San Francisco.
Bridal Shower Menu:
A selection of four wines
Crudités and dips
Vegetarian samosas
Lemongrass chicken eggrolls
Cheese platter with brie, smoked gouda and manchego
Mini fruit pies
Jackie made a festive "trellis" of paper flowers to be mounted on the dining room wall along with the adorable hand-painted signs for a small photobooth. So crafty!
Ever clever, Margaret arranged for us to have a wine tasting to go along with the delicious food. Two whites and two reds that were candidates for being served at the wedding. The votes for our favorites were unanimous!
Jackie prepared a fun activity for the guests, a series of Mad-Lib's style questionnaires with a wedding theme. Everyone teamed up to fill-in verbs, nouns and adjectives on their printed cards.
Reading the resulting odd-ball wedding vows and toasts cracked us all up.
With desert of miniature fruit pies still warm from the oven, we turned our attention to opening the gifts. Margaret was given a beautiful wood salad bowl and set of plates from her future Mother-in-Law.
Well done, Jackie! A relaxed and cheery event perfectly suited to honoring our amazing friend Margaret