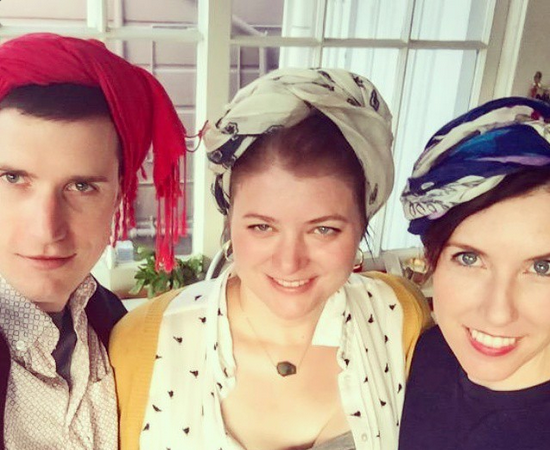 An Eccentric Soufflé & Turban Dinner Party in 5 Steps
My friend Sarah has a wonderfully odd, historic sense of humor. For example, one of her favorite weekend activities is a "consumption day" where you sit out in the cold on a deck chair wrapped in blankets, reading and drinking bloody marys. She's the best, obviously, and great things happen when her whimsy is combined with my own oddness.
So, when Rob was away in Australia on business last week Sarah and I brainstormed a doozy of a dinner party. Cheese soufflés? Of course! I've never made them before and it seems super panic-inducing, but why not. Candlelit table? Required. Turbans? Definitely. Dioramas? Yep.
Menu
Baked feta with marinated artichoke and seeded baguette
Smoked black pepper cheddar soufflé (inspired by this recipe)
Mushrooms in a red wine shallot reduction
Green salad with french-style vinaigrette
Miette gingersnaps
Step 1: Turbans
Sarah and her brother Bo arrived in the late afternoon and we went straight for the turbans. Somehow, somewhere, I learned how to tie these – I have no idea when. Gah, the perfect fringe on Bo's just kills me.
Step 2: Dioramas
A pre-dinner activity well-matched to the eccentric theme. While digging in on the baked feta, we took old copies of House & Garden (an exceptional British decor mag that a family friend passes on to me), tape, scissors and a couple small boxes. Sarah's room box featured a very UK Christmas scene. Mine involved a pretty Chinese folding screen. Both had dogs and chandeliers. Bo's diorama is not pictured…he knows what he did.
Step 3: "Helping" in the Kitchen
Martine arrived and we got serious about dinner. Sarah, Bo and Martine were helpful with setting the table and marginally helpful trading off as we beat the egg whites for the soufflé by hand. We watched YouTube videos on how to fold the cream sauce into the egg whites and hoped for the best. While the soufflés baked, I tossed the salad and cooked the mushrooms. The soufflés were pulled from the oven as we lit the candles.
Step 4: Dinner
The soufflés were delicious! A tiny bit overcooked but so good and fluffy. Even better with a bit of the rich mushroom wine sauce and a fork-full of vinegar-y green salad.
Such a simple dinner and so appealing. I can't wait to try making soufflé again.
Step 5: Dessert
Spicy gingersnaps from the Miette bakery down the street were a perfect compliment to the meal along with hot cups of decaf coffee.
Don't you think Sarah should always, always wear a turban?