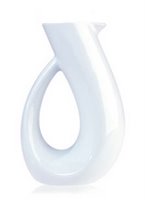 Things I Love Today: Vin-Eau Carafe
This porcelain carafe is so unique! Designed by Mint and sold by WishingFish.com, it also comes with two matching red glasses that fit in the top. I wonder if it would be difficult to pour?
At $45 for the three-piece set, it might be worth the gamble!