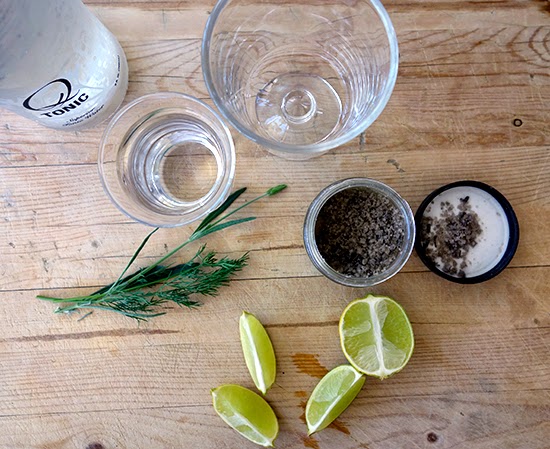 The perfect cocktail for preparing for a long voyage
Guys…you know what's not the greatest idea I've ever had? Starting a business and preparing to go abroad for seven weeks at the same time. It has been absolutely madness here – with non-stop trips to City Hall, client meetings, the drugstore, the bank (it seems like every single day) and paperwork (all the paperwork) as we ramp up for the trip to Spain and Morocco. Soon enough, you'll be getting daily posts of our traveling and working abroad.
Part of preparing for our housesitter's arrival is cleaning out the refrigerator. Along with no less than 6 varieties of abandoned cheese, I discovered some fancy tonic water that the good folks at Q Drinks sent over for me to try.
Forget packing! What I really need is a cocktail. Tonic water, with its history as an anti-malaria medicinal for travelers, seems like a great place to start. Add fresh dill to the not-too-sweet tonic water to create this version of vodka tonic.
Traveler's Tonic
Half a bottle of Q Tonic Water
1.5 ounces of vodka
Wedge of lime
Sprig of fresh dill
Sprig of lavender
Pinch of lavender salt
Use the lime wedge to crush down the fresh dill and lavender in your glass and release their lovely flavors. Add the vodka and top with tonic water. Spring a dash of the lavender salt. Take a break from endless Airbnb.com messages to enjoy a quiet minute with this refreshing drink.