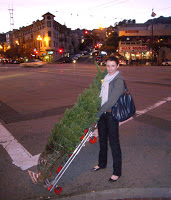 Our weekend started Friday night with a cheese and meat platter and a rental, Angel-a, from Blockbuster. This French black and white film is pretty incredible. Later that night, we had a nice Italian dinner at a place I've always wanted to try down the street called Capri.
On Saturday, it was bright and sunny out so we went for a round of archery in the park with Matt. An hour or so of top shooting before lunch at Park Chalet. In the afternoon, I met up with Amber downtown to take advantage of the sales.
At Saks, I bought a gorgeous silk Nanette Lepore dress for 75% off. At Neimans, I picked up a blue tweed, high waisted, pencil skirt from the same designer and a comparable discount. Banana Republic, Zara, Old Navy, Club Monaco, BCBG, J.Crew and Nordstrom were all next. At the last stop at the Gap, I found a cute and inexpensive pair of jeans (straight leg, low rise stretch, pictured). We had Ethiopian for dinner following all this shopping and it's-it's for dessert.
Sunday morning, Rob was sweet to get me a Sunday Times before dropping by the archery field early in the morning. Around lunch, we met Matt at the climbing gym for a marathon bouldering session. Taco wagon for lunch. Back at home, we worked on our Christmas cards and bought our tree. The whole neighborhood is decorated now and so festive! We had a relaxing night of fish tacos and Christmas music rehearsal on the ukulele and bass.
I'm going to be super busy with work the next few days, so expect reduced posting!