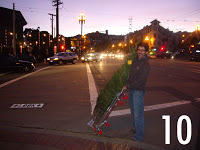 Advent Calendar: December 10
I love our annual tradition of going to get a Christmas tree. First, we rearrange all the furniture in the living room to make a spot. Then, we walk our trolley (good holiday gift idea for dads and significant others) down the street to the Delancey lot on Market and Church Street. This sunken lot used to house a church a few decades ago and now only comes alive during the holidays.
Rob and I ask for a 6 foot tree still bound up from the Oregon. It's easier to carry home this way, fresher and has the added fun of not seeing the tree in full until it's place. Once we get the tree home, Rob saws off the base out on the sidewalk in front of our apartment (he loves sawing).
Our tree this year is especially fresh and vibrant, even a little muddy. It smells divine!