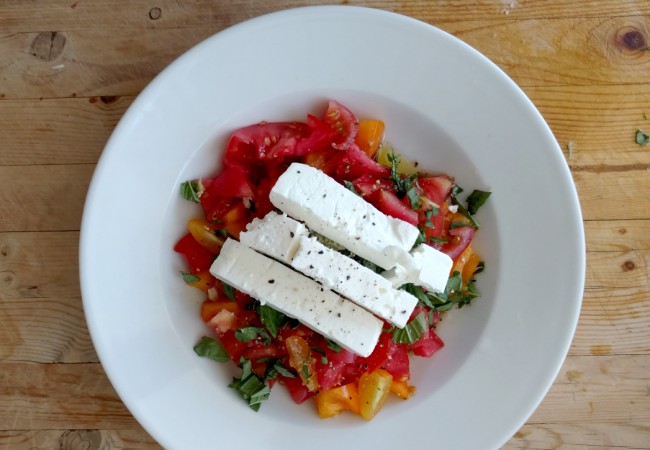 Tomato, Basil and Feta Salad
In pre-natal yoga last night, we talked about how the last few weeks of pregnancy are a "tender time."  There's sadness about the end of a special phase of life, pain, fear, worry, joy, frustration…all smushed together. All of America is in a tender time this week. Every day, the news brings breath-stopping heartbreak, but there is still joy. There are still summer tomatoes.
Cooking makes me feel better. It's hard to feel so helpless when you're chopping up a heap of fresh vegetables. Even better if you're cooking for someone else – as I'll be doing today for a friend who had her baby two weeks ago. I'm discovering old recipes – special foods made for new mothers generations ago. New mothers who had their babies in time of war, disease, shortage and who had the same tender hope. Mothers who would be amazed at how good life is today – even with all the terrible things.
All this to say, let's eat something good today. Let's make something good for someone else to eat. Let's try some tender hope in the form of ripe tomatoes.
Tomato, Basil and Feta salad
Four ripe summer tomatoes, from farmer's market or the garden
Pinch of fresh basil, about a tablespoon chopped
Small clove of garlic, microplaned or grated
Splash each of good quality olive oil and balsamic vinegar
Fresh black pepper
Authentic, not-too-salty feta cheese
Chop the tomatoes and basil and toss with the olive oil, vinegar and garlic. Top with slices of fresh feta cheese and pair with a slice of crusty bread grilled in olive oil on the side.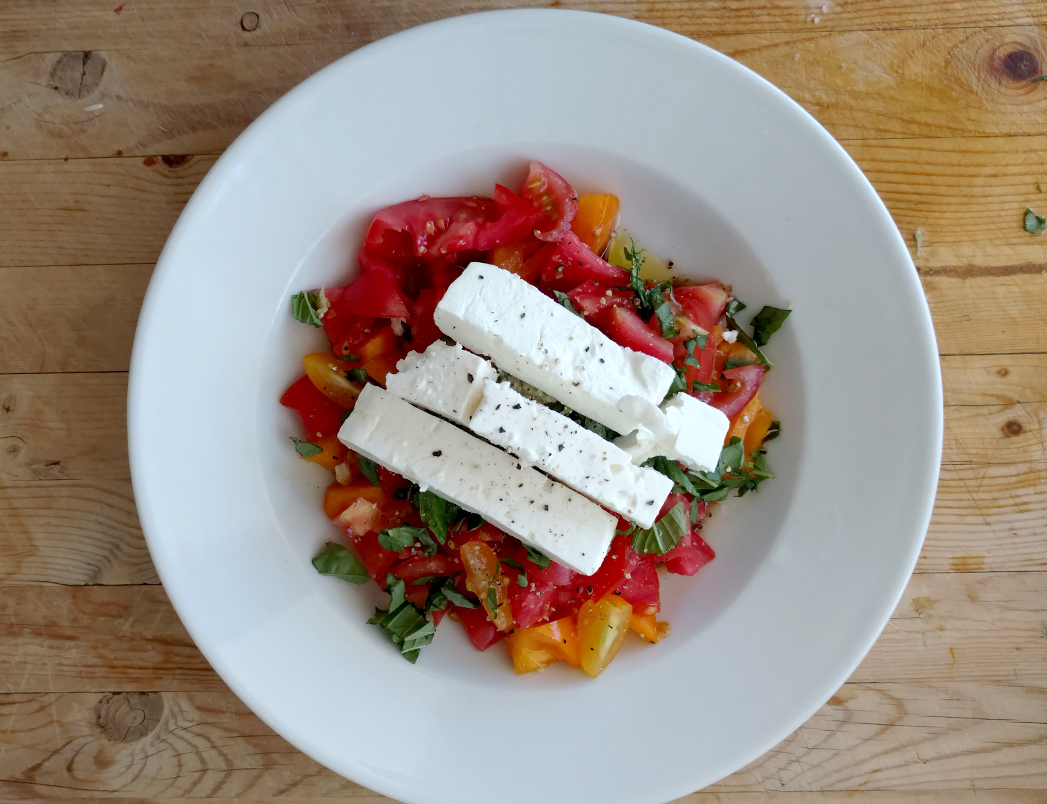 This recipe is also nice mixed together and broiled on pieces of bread with a green salad.