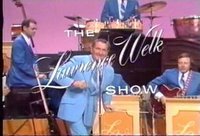 Tune In: The Lawrence Welk Show
It's a well known fact that I am actually 120 years old; ask anyone who knows me. So when I accidentally came across The Lawrence Welk Show on PBS, I was instantly hooked.
I was channel surfing on Saturday night before getting ready to go to a birthday party at Frisson. The sight of 20 of the whitest men who ever lived in matching yellow dinner jackets on a light blue stage. As the camera zoomed out it just got better and better! Organs! Elderly 1960's couples dancing! Tap! Beehives! Plaid pants! It was glorious.
I am so inspired to have a 1960's style dinner party now! They really should bring back shows like this…maybe just for me and my peeps over at the rest home 😉