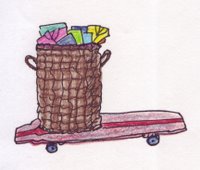 Weekend Illustrated: Rainy days
What a fun weekend! I feel like we hardly did anything, but my drawings prove otherwise! Rob and I had a quiet night at home on Friday with Chinese leftovers and a movie.
It was rainy on Saturday morning and we had a lot of laundry to do. We packed up the skateboard with five loads and rolled down to the laundromat.

While waiting for the laundry to finish, we cut a few big branches off a eucalyptus bough that fell down in the previous night's rainstorm. The tall branches and seed pods looks better than any flowers you could buy in the tall vase on the dinning room table. Once all the laundry was folded and put away, Rob and I took the subway downtown for a little shopping. Workers were busy putting up the Christmas tree in Union Square:

Back at home in time for fish tacos and the most awesome TV show ever ('ll explain in a separate post). At 10, Rob and I took the subway downtown to meet some friends for birthday drinks. Low and behold, the absolute worst hipster hairdo in existence was waiting for us on the train. I have diagrammed this terrible mix of every hairstyle possible for your anthropological purposes:

I stopped laughing just in time to hop off the train and walk over to Frisson on Jackson Street. Our friend was celebrating her birthday with drinks at this swanky restaurant and lounge. We had a fantastic time and a few too many of their delicious exotic cocktails (qi tea? yuzu? cynar? falernum? Are they making this stuff up?). The dinning room was designed in a mod circle:
Rob and I grudgingly woke-up at 9:00 on Sunday for an archery session with Matt in the park. The rain had cleared away and it was a lovely day for a little shooting. I finally got to use my new recurve bow:
After a wonderful 2 hour afternoon nap, we took our elk steak and sausage over the Peter and Jill's for a BBQ dinner. They had set up a lovely dinner table for us out in their yard surrounded by twinkle lights. Jill made these carb-tastic baked mashed potatoes and Peter was king of the barbecued elk, chicken and corn. What a perfect way to end the weekend: