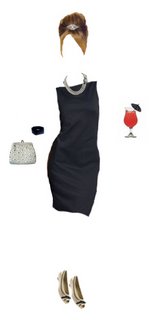 What to Wear: 60's Cocktail Party
Oo la la! I've been dreaming of having a sixties cocktail party all day. I think it would be a fun theme for a Christmas dinner with a few friends. Serve up Tom Collins and make all kinds of terrible white-bread-based appetizers. This is what I would wear to that party (or the the Lawrence Welk Show):
Dress – A plain black sheath dress is a great modern start to this outfit. It would be even better in a bright color.
Shoes – These shoes are really the key. Cream leather peep toe with a black bow.
Purse – Some sort of silly vintage evening bag.
Bangle – Chunky and black.
Pearl necklace – My vintage three strand set.
Hair – A beehive paired with a pearl and crystal hair barrette. The shoes and the barrette are really what you need for this outfit.
Make-up – Lots of lashes and brows plus nude lip gloss.
This is a little more on the 50's end of the fashion spectrum…oh well! I seriously love that barrette…hmmm. Late birthday present to myself or early Christmas present?