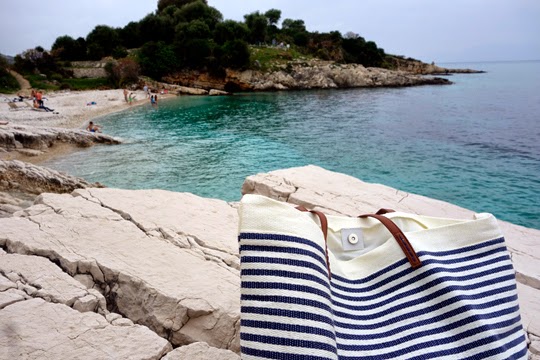 Picnic Lunch on the Beach in Kassiopi, Greece
The weather on Corfu today was hot, but overcast and occasionally drizzling. We decided to stick close to home with a picnic on the beach for lunch. Packed up my new tote from Athens and walked through town. We picked a spot on the flat limestone rocks hanging over the water at Kanoni Beach.
Basic picnic of salami, cheese, crackers and pears. The secret to buying produce in Kassiopi is to wait for a white van with vegetables painted on the side to stop in the town square. I bought pears, tomatoes, lettuce, onions, bell peppers, dill and fava beans for the week for 8 Euros.
I know salami is supposed to be terrible for you…but I love it so much!
It was warm enough for a bikini. People were swimming but I wasn't tempted to jump in the cold, clear water.
Sketched a bit with my white charcoal pencil. This rough outline turned into a really pretty color drawing for my journal.
Just a few more days in Greece before we're off to Croatia for the rest of our trip. Three more weeks to go before Chicago and then home!