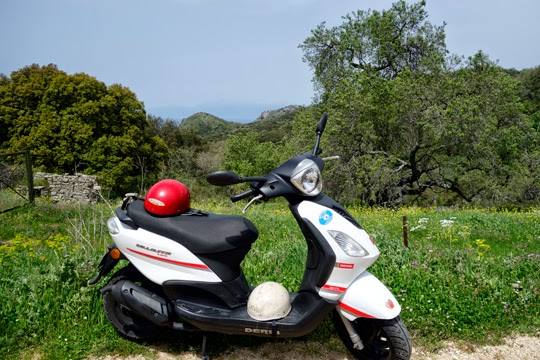 Lunch at the Abandoned Corfu Village of Old Perithia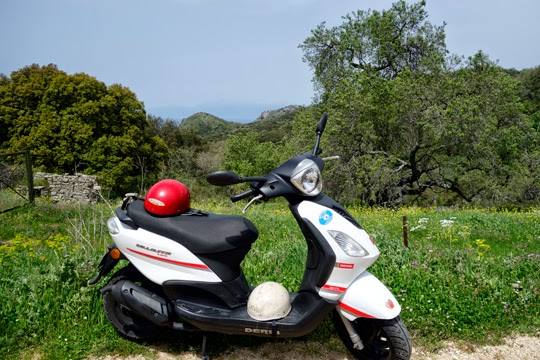 We rode about 20 minutes almost straight up from Kassiopi, past tiny farms and super fragrant fields of wildflowers to find the old village with a view of the sea and Albania in the distance.
Established in the 14th century, Perithia was once used as a place to hide out from malaria outbreaks and pirates who frequently invaded the coastal towns.
At its peak, Perithia had 1,500 residents and eight churches.
By the 1950's, the village was abandoned except for the summer months. The old stone houses quickly became overgrown with vines and started to fall apart. There are just a handful of people living in the village full-time now.
It's absolutely silent on top of the mountain except for birds chirping and a lot of bees buzzing.
The honey from up here must be delicious! Definitely not a spot for those allergic to bees.
The town is in a small renaissance. With five tavernas serving local recipes, a new B&B run by British expats and "for sale" signs on some of the abandoned homes that are (mostly) still standing.
SO many wildflowers blooming in April here. This is the tiniest variety of forget-me-not I've ever seen!
After hiking all around for an hour, we picked Ognistra Taverna for lunch because of an amazing, almost-French-style stew aroma coming from the kitchen.
First up, a salad made with chunks of super sweet orange, olive oil, paprika and sea salt. A loaf of rustic white bread with a trio of tzaziki, eggplant garlic dip and spicy cheese.
Rob and I then split a dish of rabbit stifado with pearl onions. The recipe is made with tomatoes, olive oil, wine, cinnamon and allspice. We had a side of braised wild greens with the rabbit, full of chicory and dill. So good!
I was amped up, as often happens after a good meal!
But it was time to get back to work, so we scootered back down the hill.
What a fun adventure!