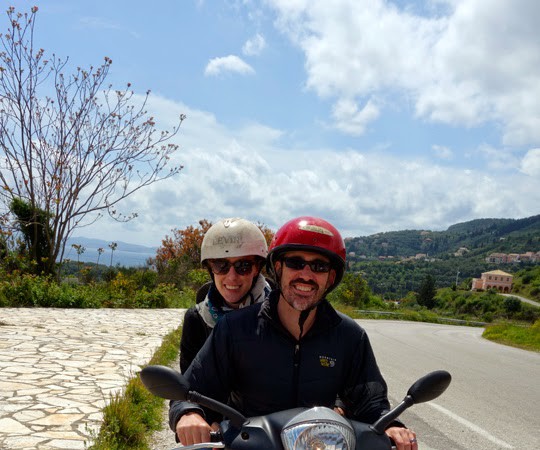 Welcome to Kassiopi, Greece!
My Family and Other Animals is one of my favorite books, so I knew we had to fit a stay in a Corfu village into our itinerary. Corfu has a special place in the hearts of Greeks – every host we mentioned it to couldn't stop fawning about how lucky we would be to see it – as well as British and Italians. I picked the village of Kassiopi (sometimes spelled "Cassiopi") from a few gorgeous pictures online.
First, we had to get there. After the festivities of Easter weekend in Corfu Town, Rob and I found ourselves stuck. The regional busses weren't running at all on the Sunday holiday and a taxi would be expensive. We moped around on Sunday morning feeling a little homesick and not sure what to do…and then we hatched a plan.
Turns out that renting a scooter for the week was only a bit more than a taxi. And, since Rob is a well-trained motorcycle rider, we figured we could load our luggage on the scooter and zip the 35 kilometers up the coast. We got the rental agent (a super Greek-looking man about 5 foot tall with 4 inch long eyebrows) to upgrade us to a newer model from the microscopic gas-guzzler he initially proposed. Rob put my bag between his knees and I wore his backpack. Thank heavens we are light packers!
The ride up the coast took about an hour and was so pretty. Lots of roasting lamb on spits along the way up through the curvy, sometimes one-lane road. Terraced olive groves on nearly vertical hillsides running down to the water. We arrived in Kassiopi and settled in to our new pool-side apartment for the week before going out to explore. The architecture on Corfu is a mix of Italian and Greek. Yellow and light pink are the predominant colors, compared with the bright white and red of Bodrum or beige and orange of Kos. There are hardly any ancient ruins, such a change from Kos and Athens.
We hit our first beach on the north side of town.
Then, walked up to this bay view.
At this point, all I can say is "looooook" at each new beach we encounter.
I'm almost nauseated from the views by the time we hit the main peninsula with beaches on both sides.
In the distance, you can see the hills of Albania and occasionally a few snow-capped peaks.
Amazing!