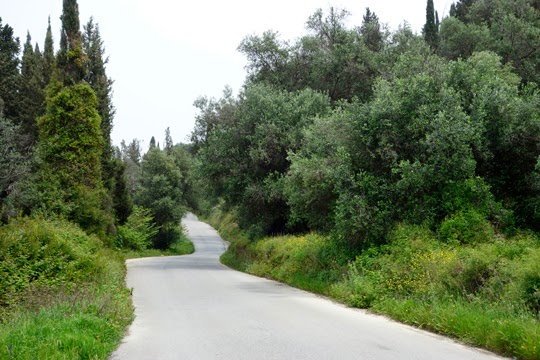 Exploring the North Coast of Corfu by Scooter
On Tuesday, Rob and I took the scooter for a ride along the north coast of Corfu. The weather was hot, but overcast. Still pretty here even without the bright blue skies.
This is "New Week" in Greece and there are still a few more Easter festivities going strong. When we rode through the village of Avilotes, traffic was stopped on the main road. We hopped off the bike to see the end of a church procession. All the locals, men and women, were carrying fresh flowers and heading home for a family lunch.
We rode out to the bay at San Stefanos. With the haze, smell of sage and the sandstone cliffs, it felt a lot like Half Moon Bay there.
The quiet little valleys in the north look very Italian.
On the way to Magoulades, we started to see the road covered in crushed flowers and bay leaves. Then, flags emerged and painting on the street of "Christos Anesti."
We followed the flowers to Saint Theodore's church.
The locals were getting ready to head home for family lunches after following some kind of flowery procession for a couple miles through town.
Pretty bunting!
A marching band had been part of the procession. They certainly love a good marching band on Corfu!
We should have talked to people about what was going on, but I felt shy and underdressed in my scootering outfit. The best I could do is this description of the "Nine Tuesday" celebration from a Magoulades local. It seems to be a combination of Easter, their Saints Day and village fair commemorating survival of a Spanish Flu outbreak?
Yet another mystery of Greece that defies Googling!