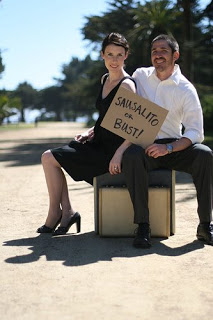 Wedding Wednesday: Engagement Photos!
I feel like an official bride! Rob and I had our engagement photo shoot last Sunday with Paul. He was so easy to work with; we finished the whole shoot in 40 minutes. He's a painter, not a photographer, but his artistic eye carried over easily. Here's a link to all the best shots. I have a different favorite each day!
The vintage suitcases turned out to be ideal props. I'll probably use one again for the gift table at the wedding along with a map of our honeymoon route. For now, we filled them with boardgames and stacked them in the dining room. Rob came up with the darling idea for the "Sausalito or Bust" sign.
Aside from the amazing photos, of course, the best result from last weekend was the comforting feeling that my harebrained wedding schemes are actually working out!