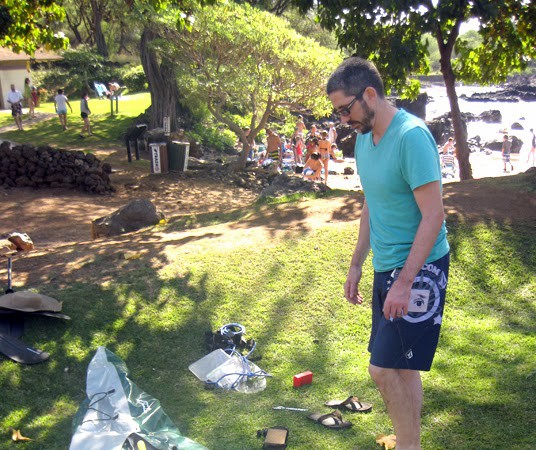 Hawaii: Snorkeling Makena Bay by Kayak
Jean, Trent, Everett, Mom and Dad left for California this morning. The house seems so quiet without them, especially without the baby's constant chatter. We're here for another week!
After everyone set off for the airport, Rob and I got permission from Haley to take her inflatable kayak out for a spin. We drove down to Makena Landing to set-up.
It just took a few minutes to inflate and we were ready for the bay. There are few things more exciting, satisfying and freeing than setting out on your own boat.
There's been a few days of strong winds here, but this was a perfectly calm and breezy afternoon. We followed a woman on a standup paddleboard with her dog as we set out. The dog relaxed on that board for at least an hour!
Rob jumped in at a particularly nice looking reef.
He spotted a turtle swimming by the very first moment he dipped in. It was so clear, I could even see the turtle from the boat, about 20 feet down.
We took turns paddling and swimming along the coast. Rash guard and a big straw hat: two must-haves for my pale skin.
Great view of the upcountry from the boat.
Plenty of fish, coral and urchins below the surface.
Stopping in at a tiny sheltered cove was a highlight of our voyage. Crystal clear water full of fish, lovely shells and coral on the beach – an ideal locale for a snack and break.
This was a really fun way to spend an afternoon in Maui! You can swim out from Makena Landing to some fantastic snorkeling spots without a boat – but having the kayak helped us to go further and with a more relaxed pace.