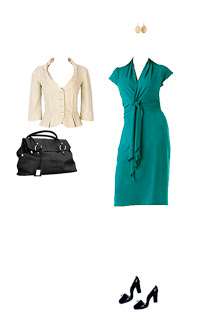 What to Wear: France & Alaska
Emily has a big summer coming up. First, she's jetting off to France for a few months. After that she'll be coming home to Alaska for a wedding. She needs a dress that can stand up to the international demands.
I have a fashion challenge for you. To begin with, I'm a college student, so my budget is limited, especially considering the amount of traveling I'm having to do this summer. But, I'm going to Pont Aven, France for a painting program for 4 weeks and then home to Alaska for my best friend's wedding. Both places will be summer weather, but a little on the chilly side – jackets required most of the day.

Her wedding is going to be very small and pretty casual, so I'm hoping I can find one dress that I can make work for my go to dress for for the summer. Additionally, I'm a little bit out of shape right now so I'd love anything that could a) make my waist look a tad more defined than it is right now and b) potentially still look fabulous if I lose a little bit of weight.
Step 1: Rent both versions of Sabrina and watch them repeatedly until your flight to France. It's good to have a frame of reference for your fabulous, frenchicized return. Step 2: Do a little shopping. Here is an idea that might work for your travels:
Dress – Something about this dress is just so flattering and appealing. I know the sash in the front is a little odd, but I think it could really work for Emily. And the "polyester/spandex" blend is immensely packable.
Jacket – Also very continental and great for layering.
Bag – La Redoute brings inexpensive French style to America. This leather bag is by Laura Clement and generously proportioned to hold all your baguettes and silk scarves 😉
Shoes – Also from La Redoute and on sale as well. A bold heel balances out the bag and adds authority.
Earrings – Ties in with the cream jacket.
Add some perfect make-up and a splash of new French perfume…voila! Emily will become Amélie.