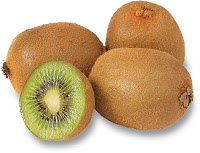 Things I Love Today: Kiwis
I stopped by the produce market on my way home last night for a much needed veggie fix. I made artichokes and paired them with a delicious salad of organic mixed greens, a cubed avocado, a cubed kiwi and balsamic dressing. Even better with a few raw sunflower seeds tossed on top and a glass of white wine on the side.
Yum! It was the perfect meal to offset the stress of our upstairs neighbor's announcement that he is buying a grand piano. Just when we finally had the techno music under control!