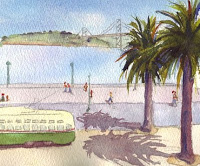 Urban Girl Almanac: Smoked Emily
Ugg…all this smoke is starting to get annoying. 1,100 wildfires in California have rendered the city's normally crisp air into a thick pudding of smoke and ash. Yuck. Aside from smoke inhalation, here's what I learned this week:
Going home after work is overrated? I haven't been home before 7:30 any day this week. Two trips to the gym, one LAC party, six bars and restaurants. I'm tired.
The Patrice Wedding Fund received a few more donations and passed the $100 mark. Well done everyone!
$4-for-3 peonies from Safeway are one of the great joys of summer.
The internet somehow knows just exactly the right time to deliver a wonderful note or a thoughtful gift when you're feeling down.
I still haven't put the bedroom all the way back together. Hopefully this weekend.
I'm very happy with my skills as a climber right now.
Minor cosmetic dental procedures aren't too bad. I had some enamel added to the back of my somewhat-translucent front teeth. It didn't take that long and looks natural.
I confess, I'm addicted to So You Think You Can Dance. I love cheesy summer TV.
This week's painting of clearer skies in the city is from Heidi Wyckoff.
Rob is off to visit his parents this weekend. I have friends coming to stay tonight and tomorrow morning. The rest of the weekend I'll be by myself, something that rarely happens. I'm planning to make crepes, shop for the wedding, catch some marriages at City Hall and take lots of bubble baths. It will be nice to decompress a bit.