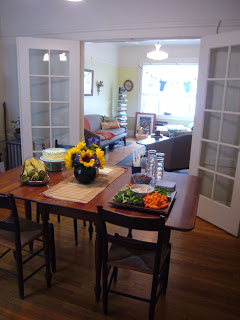 Weekend Round-Up: Lady Time
The rainy weather this weekend was just right. I need the bout of inside time to relax and recuperate. And to spend some time with lovely friends!
On Friday, Rob and I ran some errands on our way home, picked up a second fondue pot at a friend's apartment and spent the evening cleaning and preparing for the weekend ahead.
Saturday morning, we had breakfast of coffee and oatmeal while I finished preparations for the 1970's baby shower for Amber. I made a layer cake with yellow and blue frosting, cut up the fondue trimmings and decorated the house.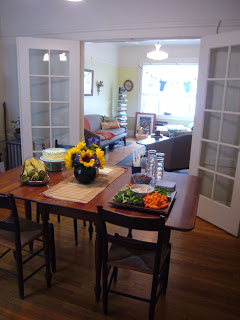 I'll do a separate post all about the shower later, in the meantime you can read about it on Amber's blog. (Note: New Year's resolution about posture doesn't seem to be working)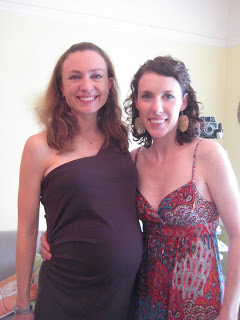 The who party went perfectly with the exception of our crazy neighbor upstairs calling the police on us. On a baby shower at two the afternoon!?! What a nut job.
The party ended at 3:30 and I spent the rest of the afternoon doing dishes and writing overdue thank you notes. Rob came home from his day out and we ran some errands in the drizzly neighborhood. It was so nice to spend some time reading in bed with hot chamomile tea.
The next morning, we had a leisurely breakfast with apple and pear crisp made from fondue leftovers. At 10:30, I drove across town to help Meg and a few friends Gocco print her wedding RSVP cards. We were screen-printing pros; easily making over 100 cards and finishing up the ink of a variety of other papers. Meg served us a lovely lunch of curry chicken salad, green salad, rustic bread and iced tea. Plus, dessert of carrot cupcakes and It's-its. What a fun project!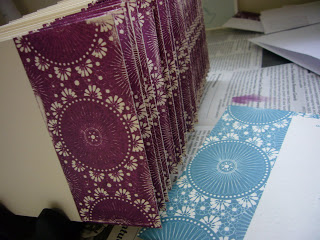 Rob and I dashed down to REI after the party. Back at home, we lounged about and did chores. I finally caught up on my What to Wear requests. A nice hot bath and fondue for dinner!

Click here to see all the photos from the weekend.