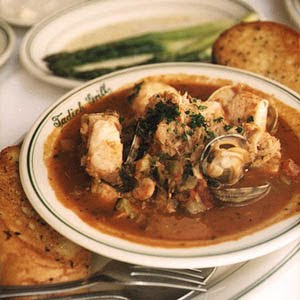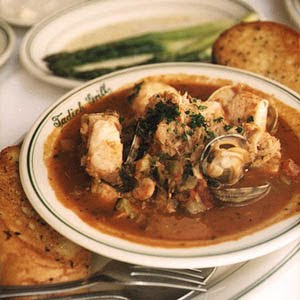 This recipe was more work than previous cioppinos I've made but so worth it! The Tadich Grill broth starts with a whole lot of chopping. The fennel is really key. Cioppino is perfect for a large party because there is so little to do once you've made the broth.
For the party on Monday, I made the broth on Sunday night following the recipe pretty much exactly. Finely dicing the vegetables makes a difference. I also added four cloves of garlic to the mix and let it simmer down for about 3 hours.
On the night of the party, I deviated from the recipe both in ingredients and technique. I like to simply heat up the broth and add the seafood straight in to cook instead of pan sauteing.
First, cracked dungeness crab legs and meat from the bodies in to the broth. Then portions of fresh rockfish and salmon I had cubed and frozen on Sunday. Next, frozen jumbo scallops and shrimp (It seems to me that freezing the seafood slows down cooking and makes everything really tender). I cooked mussels in white wine and butter in a separate pan and then added that along with half a bottle of white wine as the final touch. Stir until the broth is hot again and the fish is cooked through.
I had enough broth left over from the party to freeze a couple batches. It will make such an easy dinner to heat up and add some new fish before serving.