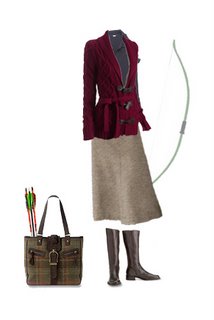 One of my favorite things is coming up with the perfect outfit for a given activity or event. You name it, I will find the exact right thing that should be worn to it (albeit in my own funny way)! This fits in perfectly with my new archery hobby:
Cashmere cardigan – I really am obsessed with this sweater.

Wool skirt – I have a brown Prada skirt much like this that I bought in a thrift store last year.

Navy polo – A nice little layering piece with a collar.
Leather boots – Flat enough to wear comfortably all day but still a bit attractive. With tights of course.
Wool tote – I could fit a few arrows in there.
That's not too over the top…just imagine if I threw in this matching hat! All I need is a German shorthaired pointer to complete this outfit. Ha!