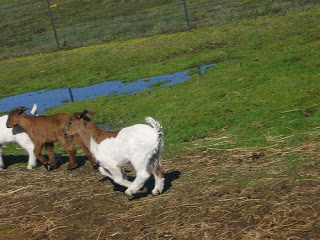 Weekend Round-Up: Country Life & City Life
Rob and I went to Sanger this weekend to spend some time with his family. We left on Friday and slogged through the traffic and rain on the way down there. On Saturday morning, we shared a big breakfast and got a good look at the two sets of quadruplet goat kids. They're so cute and goofy!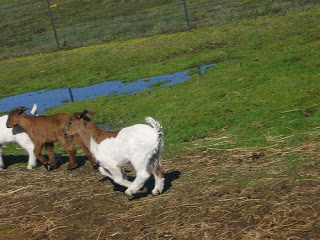 Rob and his dad worked on birdhouses for nesting wood ducks while I went off birdwatching with the women-folk. We spotted over 20 species throughout the day. Later that night we all went to a fancy Valentine's dinner at the Bear Club in Reedley.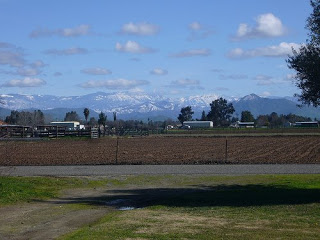 Sunday, we drove over to Lost Lakes park for some more birdwatching. Ducks and woodpeckers this time. Luckily, we managed to avoid the rain both days! We shared a fancy lunch in Clovis before heading home. Unfortunately, we hit the storm again on our way home. It was pouring as we crossed the bridge and kept raining all night.
The next morning we got up very early and bundled up. Despite the pouring rain, we rode across the city to watch the Tour of California riders cross the bridge. Here's what I look like soaking wet at 8:30 in the morning with no make-up on. Awesome: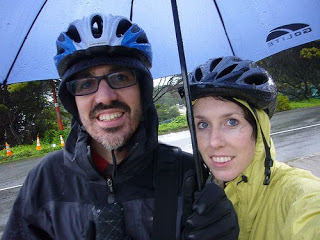 I was about a foot away from Lance Armstrong, as helpfully demonstrated in this blurry photo I accidentally took at the moment I pointed at him and yelled "hey, it's Lance Armstrong!" (so smooth).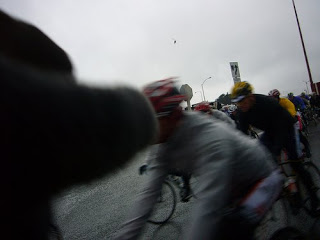 Freezing, freezing cold and still pouring on the way home. I ditched my wet clothes and stayed in the the bath for about an hour warming back up. We spent the rest of the day cleaning out our closets, doing laundry and recuperating.
At 5:30, we walked over to visit with friends who are about a month away from becoming parents for the first time. We all went to dinner at Luna Park together at 6:30. Stuffed, I came home and cleaned house for tonight's LAC party!