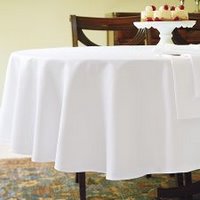 Birthday Wish List: Tablecloth
My poor old white damask tablecloth was never that nice. It doesn't have a great hem and the corners tend to curl up. Plus, it has been through far too many parties and isn't as white as it used to be!
For it's replacement I am adding a white hotel tablecloth (70×126) to my birthday wishlist. This version is from Williams-Sonoma for $54. I also like this blue and white provence tablecloth.