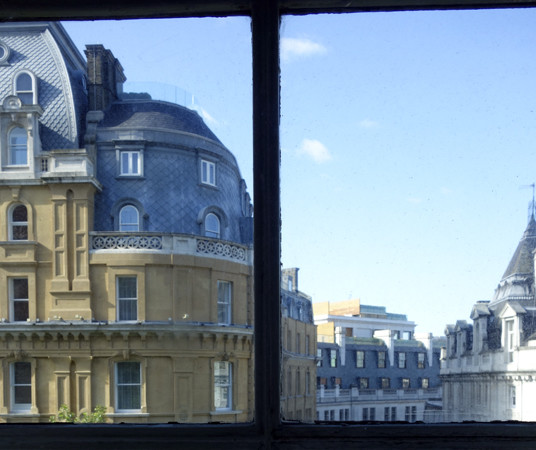 What a great trip! Rob and I are just back from a nine day vacation in the UK. Thanks to the horrible exchange rate we spent way too much money, but we had a grand time doing it! To make the recap easier, I'm going to break it down to the different areas where stayed. To start: London.
We were in London for the first night and the last two nights of our trip. I wanted to stay somewhere very centrally located, and an apartment with Citadines Prestige on Northumberlund Avenue worked out perfectly. We were just one block from the Thames River to the south and one block from the National Gallery to the North. It was expensive, but nothing compared to the five-figure per night rates at some of the top London hotels. Our modern room included a small kitchen and view of a nice curved street.
Thanks to our central location, we saw a lot of the key sights our first afternoon. We walked along the river to see the House of Parliament, Westminster Abbey and Buckingham Palace:
My favorite stop that first day was definitely Fortnum & Mason. This department store opened in 1707 and continues to provide everything from Himalayan salt-aged beef to rabbit baby booties across six floors. Their iconic picnic baskets (hampers) are the real stars of the show.
That night, Rob and I had dinner of gourmet street food from the Real Food Festival set up beneath the Eye of London. This macaroni and cheese was incredible:
Later in the trip, we spent a full day in London exploring various neighborhoods with the help of a day-pass for the underground. We went to Kensington Palace (I wouldn't recommend it for the price, pretty strange art installations) and walked up to Notting Hill.
Stopped for lunch at a nice looking cafe called Granger & Co. that was packed with posh socialites and the actor Jeremy Piven.
Walked all the way up Portabello market and bought an antique train signal lamp. Decided this little gray house in Holland Park would suit us just fine:
Also zoomed out to see the Tower Bridge and to Marylebone to have fish and chips for dinner at The Golden Hind (good, but not great).
Our best meal in London was our last meal in London. Rob and I walked from our hotel past the opera house to Dishoom, a Bombay-style indian restaurant. There was a wait to get in but we were seated quickly. Awesome service, affordable prices (by London standards) and a chicken tikka that will set a new, impossibly-high bar for the dish for me:
As with this entire trip, we explored London with zero planning and no tour book. It was a fun way to stumble upon different landmarks and not get caught up on a to-do list. Next up: Edinburgh, Cambridge and a Scottish country estate near the River Tweed