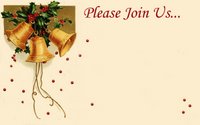 Crafy: Holiday party invitation
Instead of using Evite this holiday season…why not make your own email invitations?
I created this template by expanding on a vintage design. Just click here to view the full sized image and then copy it to PhotoShop to add your party information. You can also print it and use it as a paper invitation. Enjoy!