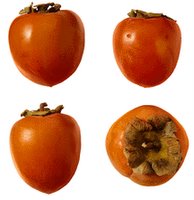 Recipe: Spicy orange chicken
Kate asked for the recipe for the spicy orange chicken with persimmons, pecans and celery from Wednesday's party. There are endless variations you can use with this sauce. I love it with tofu, bok-choy and zucchini too. The nuts are a key addition to the recipe. Here you go:
Spicy Orange Chicken:
Serves 4-6
3 chicken breasts or equivalent in breast tenders, cubed
6 slightly ripe persimmons, peeled and cubed
3 cups celery, cubed
1 cup pecan pieces
1/3 cup of soy sauce
3/4 cup orange juice & pulp (freshly squeezed)
1/3 cup of water
1 1/2 tablespoons of vegetable oil
1 teaspoon schizuan chili oil
2 cloves of garlic, chopped
1/2 teaspoon dried ginger
Pinch of black pepper
Heat vegetable oil in a large skillet, add garlic and chicken cubes. Cook chicken over high flame until it starts to brown. Combine soy sauce, orange juice, water, chili oil, ginger and pepper in a measuring cup. When chicken is slightly browned, reduce heat and add a half of the sauce mixture. Cook on low heat until chicken is no longer pink and sauce is reduced. Add celery, pecans and remaining sauce. Cook until chicken is done and sauce is reduced.
If you have prepared this in advance, you can leave the dish at this point until it is ready to be served. Once you are ready to serve, heat up the chicken and celery and then add the persimmons and cook only until hot. Serve with white rice and a rice vinegar salad to counteract the spicy chicken.
Note – It's okay to use underripe persimmons in the recipe. The unpleasant startch taste cooks out. If you don't have persimmons, substitute with mango. You can also replace the chicken with firm tofu using the same cooking instructions.