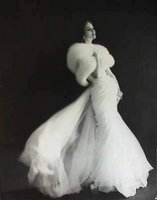 It's already November, and that means it is time for Rob and I to work on our annual holiday card portrait. The plan this year is for me to wear a formal dress and be staged by the subway, in Golden Gate Park or on a trolley. Of course, this entails purchasing formal wear. A daunting task. The trick is to find a dress that is affordable, doesn't make me look like I am going to prom/being a bridesmaid and that I won't freeze to death in. Here are so possible options:
Betsy Johnson Taffeta Party Dress – Normally I am not a fan of Betsy Johnson but this dress in blue is kind of cute. Price tag: a whopping $389.
BCBG Long Halter Dress – Pretty simple design in a flattering color. It's not thrilling but it could work. Price tag: a still-too-expensive $218.
Vera Wang Ruby Taffeta Gown – Verging on prom-style, this dress has an attractive neckline and nice color. Price tag: $312, a big savings off the regular $500.
Satin Bustier Dress with Sash – Even more dangerously in prom territory, this retro style dress from Jessica McClintock is actually something that would be fun for a photo. Price tag: only $202, what a bargain.
Satin Strapless Dress – Banana Republic has a couple cute options. I like this one best but I am not sure how it would work with my pale complexion and twiggy figure. Price tag: a decent $148.
Cross Front Dress – Way too plain, but something that would actually have a chance of being worn again. Price tag: a surprisingly cheap $135.
I kind of feel like scratching my eyes out now…so maybe an evening dress is not the solution for this photo shoot. It seems like evening wear these days breaks down into three categories, prom/bridesmaids, mother of the bride gear and beautiful but devastatingly expensive designer gowns. How about I buy a luxurious white coat and an expensive pair of shoes instead?