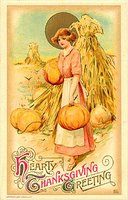 Thanksgiving is already here (really!? How is that possible?!). Following in Garrison Keillor's footsteps, I am thankful this year for some simple pleasures. These are a few of my favorite things:
The gorgeous weather in the city this week
Getting a seat on the bus
The third successful Ladies Activity Club party
The San Francisco Public Library system
Taking the subway downtown to shop with Jean
Stamps and envelopes
A glass of cold water from the fridge
Having nice friends who like me even though I am a bit funny
My fish, Coco Chanel
Advent calendars with glitter
A great, if a bit funny, family
Pomegranate jello salad
The miracle known simply as ibuprofin
Technology that lets me chat with friends who live far away
Rob's little surprises, like lilies and granola bars
Just being in San Francisco
Have a great Thanskgiving everyone!