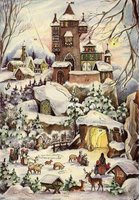 Advent Calendar: December 20
Only a five more days until Christmas (what?! already? this is insane!). We had an action packed weekend here in San Francisco! Our office Christmas party was Friday, friends came to visit on Saturday and Rob's parents came to visit yesterday. Even though I finished my Christmas shopping two weeks ago, we spent the whole weekend at Union Square in the pouring rain.
Warm up with today's advent calendar image. It's cute one! Click on the advent calendar or here to see what's happening at the inn.