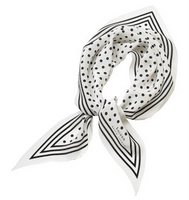 Last night, my friend Nicole remarked "I need more scarves" and really, who doesn't? However, buying and wearing scarves can be intimidating.
Style.com has recently published an Anatomy of a Classic article all about these silky accessories. Especially during winter, when the city is wet and windy, having a scarf handy to rescue a bad hair day can be a life saver. Keep a scarf jauntily tied around one of your purse straps for just this kind of emergency.
Shop for affordable and fun scarves in vintage stores or splurge on a small luxury by picking up a $200 scarf from Chanel, Burberry or Pucci. eLuxury has a few good deals on designer scarves online too.