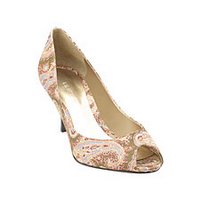 Things I love today: Peep toe kitten heels
A recent injury has forced me to stop wearing 3-4″ heels each day. Instead, I am not limited to 1.5″ and under. Icks.
There's not a whole lot of cuteness available in this category. Most flats run the gamut from terrifyingly frumpy to really uninspired. There are few shoes out there that break the mold though. Like these peep toe kitten heels in a pinkish paisley (try saying that 10 times fast) from Nine West. Adorable!