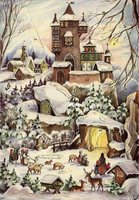 Advent Calendar: December 22
Christmas is almost here! I don't know about you, but I am definitely looking forward to going home for the holidays. The warm Southern California weather, drinking tea in front of the fireplace, taking my parent's dog to the beach and lounging in the hot tub are all in store for me this weekend! Plus, no having to take the bus or stand in line at the San Francisco Safeway for a whole nine days!
Click on the advent calendar or here to see today's holiday image!