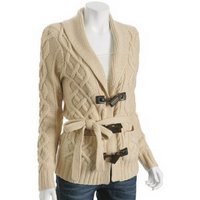 Things I love today: Toggle sweater
Maybe it's just the school marm with the cold talking, but I adore this belted and toggled sweater from Joie. It's the perfect thing for stylishly waiting at the bus stop with a cup of coffee and the Examiner on a cold San Francisco morning. Too bad it's $230, on sale from BlueFly.
Oddly, I am kind of obsessed with the idea of wearing this wool sweater over this silk cocktail dress. Wouldn't it be the perfect outfit if Martha Stewart invited you out to her farm for a fall festival celebrating native squash with Dylan McDermott? You could wear leather galloshes to complete the ensemble! When the invitation (and $500) arrives, I'll be set…..