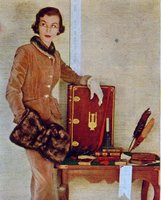 Man alive is it cold today! How did we manage to go from a balmy 75 degrees to freezing cold and windy 55 degrees in a matter of a few days?! Even worse, weather reports for this weekend predict thunderstorms (is it just me or is Google's depiction of thunderstorms pretty scary?). Serious weather demands serious accessories.
My number one all-time favorite cold weather accessory is a vintage fur collar. I inherited a few from my Grandmother a few years ago (Don't throw flour at me PETA! The minks have been dead twice as long as I have been alive!). You would be amazed at how warm such a tiny piece of fur can be.
Toss it on under a coat and you are ready to brave the elements. You can even doll it up with a broach. I haven't tried the faux version, but I would imagine that they are not as warm. I mean, there's a reason people have been wearing fur for so long. Combined with a pair of leather gloves and thick tights, a vintage fur collar is the only accessory you need to survive the crazy San Francisco weather.