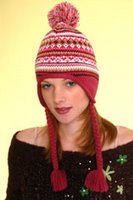 The weather reports are in for Yosemite Valley this weekend. It looks like Snow on Friday and then just clouds for the rest of the weekend. It is going to be pretty darn cold though, as low as 22 degrees on Saturday night. Time to plan what to wear in the cold:
Start with a pair of Hot Chilis long underwear
Add ski pants (Jean?) and a hot pink thermal top
Add a blue fleece sweater over the thermal
Heavy duty brown hiking socks
Hiking boots
Puffy light blue down jacket
Silly tassel beanie in white and red
Black pashmina
Black Gloves
Lime green rain slicker
Doesn't that just sound like such a lovely outfit! Pink, blue, brown, red, lime green…all together in one lovely ensemble. I'm not exactly winning any fashion contests…but I may not freeze to death. Being a softie from coastal California, I have no idea if this is enough clothes. We'll see!