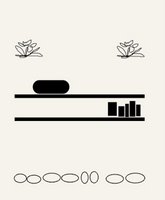 Urban Girl Tip: Revamp your entryway
One of the recurring themes in a book I'm reading is that it is crucial to have a welcoming hallway in which to receive guests. The author recommends inviting plants, a brightly painted door and a well lit hallway. Currently, my guests make their entrance by walking through a dark apartment hall that smells like chicken all the time and then walking in my dimly lit front hall. Only once you are inside the apartment fully can you see that it is actually nice.
I can't do much about the shared chicken-hall and I can't paint my door, but I can do something to improve the front hallway of my apartment. Right now, I have two copper candle sconces on the wall and a pile of shoes. The space isn't really wide enough for a console table (although, I am drooling over the Faux Bois) so I am going to use two shelves instead.
Ideally, there could be a vase or mail basket and a few flowers on the top shelf and a few books on the bottom shelf. And I could hand a piece of art between the two sconces or paint the shelves a bright color. The image above is my graphic-design-genius illustration of what this will look like when it is done. The circles at the bottom represent the ever-present shoes. What do you think?