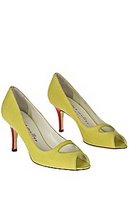 Sale alert: Anthopologie shoes
Spring fashion requires spring shoes. And there is no better place to pick up a pair of very girly spring shoes than Anthropologie. It's even better when the shoes are on sale.
The candy colors and flirty accents of these Anthropologie shoes are perfect for matching with spring skirts and dresses. For example: these round toe pumps in moss are very nice, these blue velvet peep toes are classic and I would never take off these tomato red fringe heels.