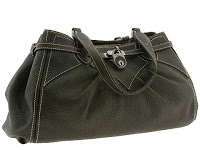 Bargain Finder: Brown Handbag
My friend, Nicole, asked me to help her find the perfect brown purse for spring! I'm always happy to help! Here are my picks for Nicole's classic style:
Moschino – This perfect, adorable brown bag is $1,200. We've clearly started off on the wrong foot. Ooooo….damn.
Anne Taylor – They have both this practical tote and its cuter bamboo handled cousin for $148 each. Much better!
Hype – This is a little bold for Nicole's taste, but I know that she's in a zebra phase right now. At only $100, this is a great bag for spring & summer.
Kenneth Cole – I think this is the perfect bag for Nicole. It's got that great dark brown leather she liked on my old KC bag and a nice hobo shape. At $148, it's not quite a bargain but won't break the bank.
Which bag gets your vote? Any other picks for Nicole you'd like to share?