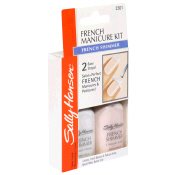 Things I love today: DIY french manicures
Nothing is more attractive on your nails than a well done french manicure. Especially if you have shorter fingers, like me. But going to the nail salon each week for an hour and forking over $20 doesn't exactly fit into my lifestyle (or budget).
So a few years ago, I taught myself how to do french manicures. It's surprisingly easy. Just pick up a Sally Hansen french manicure kit for $6 at the drug store. You can also buy the polish separately but it is almost always more expensive. Ditch the "sticker guides" and paint on the white tips by hand. It's easier to get the lines straight if you are sitting at a table. A quick coat of an opaque polish and you're set. It literally takes 15 minutes once you get the hang of it.
I've now got Jean, Margaret and Nicole all hooked on DIY french manicures too. I even prefer my own french manicures over those done in the salon. And with all that money you've freed up you can treat yourself to more spa pedicures!
Update: Apparently Jean was the original DIY french manicure guru. Props to Jean.
Update 2: Nicole also was doing her own french manicures way back in the day. I am a moron.