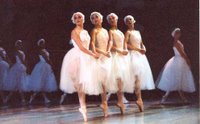 Urban Girl Tip: Swan Lake
Jean and I had a fabulous time at the ballet last night. For the record, going to see a performance at the War Memorial Opera House is one of my all time favorite things. The marble steps, the gold entry hall, the coat check, the ushers, the multiple intermissions, the Irish coffee, the works! Last night's event was particularly fun because I got to take Jean as my guest. Plus, there were all these cute little girls all fancied up in their best velvet dresses and white shoes attending the ballet.
It was also a fun night because the ballet performance was wonderful. Chinese prima ballerina, Yuan Yuan Tan was breathtaking as Odette. I have never seen such a talented dancer. People couldn't stop talking about her during the intermissions. If you can, try to catch a performance featuring this amazing dancer. The San Francisco Ballet's production of Swan Lake is running for a few more days.