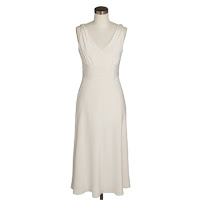 Wedding Wednesday: More Second Dress News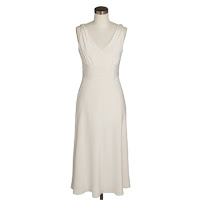 Last night, I tried on the shiny dress for Margaret and Rob and it was voted off the wedding island. Seriously, why so shiny Mr. Meister?
In the meantime, I found a new ivory J.Crew sophia dress in my size on eBay and convinced the shop to sell it to me early for $60 (currently at J.Crew for $195). It may not be the most exciting dress ever, but it is the best back-up yet.
I'll return the shiny dress to Saks tomorrow or Friday night and give it one more go to try to find a dress or pants that work better. All this buying and returning indecisiveness isn't my style.