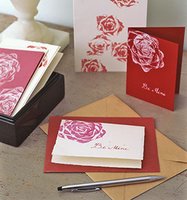 Crafty: Make your own valentines
It's supposed to rain on Saturday, making this weekend the perfect time to create your valentines. Homemade valentines (like Easter Trees) are a Williams family tradition. Even my non-crafty mom breaks out the doilies and stickers for Valentine's Day. Martha Stewart always has the best ideas for making your own cards. This year, they suggest using the bottoms of endives and other lettuces to make rose prints. I especially like the white ink on red paper version.
Other ideas include these candy themed cards, these doily cards, these heart stamp cards (I made them a few years ago) and these stitched valentines.