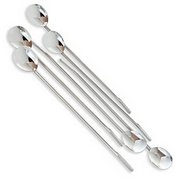 Things I love today: Iced tea sipping spoons
Summer! It's actually going to happen! The weather outside is lovely right now and it's time to start thinking about summer parties. One must-have in my opinion is a set of iced tea sipping spoons. These long spoons can add an elegant and fun aspect to serving your guests a tall glass of sangria, mojito or Italian soda.
There are some lovely vintage silver iced tea spoons available on eBay if you are willing to brave the auction site (I am not). Or, for only $9 you can order a set of six directly from Sur La Table. Even Ruby Lane has a nice set. Order them online and dream about sitting in the sun with a big glass of cold tea. It's much better than the reality of being stuck at your desk with a yucky bowl of organic brown rice.