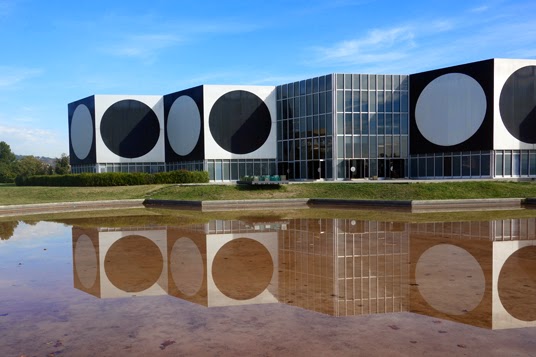 Aix-en-Provence: Old and New(er)
We are officially halfway through our trip – and I finally feel like I'm kind of getting the hang of it here in France. We started off with a different kind of adventure this bright and sunny Wednesday morning. Rob and I woke up early to walk across the old town and take the bus to Fondation Vasarely.
This museum is designed by, and features the "optical art" works of, Victor Vasarely. Opened in 1976, it since fell into hard times and is just now being restored. We had the whole place to ourselves. Despite some shabbiness and a few damaged pieces, we really enjoyed spending time in the hexagonal galleries filled with oversized, bright, optical illusion works. This room features tapestries.
Plus, a small upside to the museum being neglected is that everything is spot-on 1976 in detail – down to the circular pale turquoise velvet sofas. It really feels like you've stepped back in time.
Definitely worth an excursion outside of the main city. I can't wait to return again when the restorations are completed. Back in town, we decided to wander before getting lunch. The Christmas fair on this main street in Aix doesn't open until the 20th – sad to miss it.
We stumbled across a small market wrapping up in one of the main plazas and bought some fruit, local candies and cheeses.
Lunch at a brasserie popular with locals on Rue d'Italia. We managed to order from the board successfully! Two "plat du jours" – boeuf with a pepper sauce for Rob and poisson with a glass of rose for me. It helped that we could still see the sign from where we were sitting 😉
I think the French are really on to something with the combination of a glass of wine and a coffee at lunch. I felt amazing after eating and ready to explore the city some more. How adorable is this oil store?
Back to the apartment so Rob could start his working day. I rested up for a few minutes and took this glamour shot of the clementine oranges and candies we bought at the market. Calissons are the traditional sweet of Aix-en-Provence, made with candied citrus and almonds. Rob says they taste like un-baked sugar cookie dough. Pretty tasty!
I grabbed my sketch pad and wandered down to find the Pavillon de Vendome. This former mansion is one of the only parks open in the old part of the city. Sat on a shady bench sketching the grounds. Next to me, dogs played in the gated run (one named "Isee" was particularly naughty) and babies were walked around in prams.
There's also a little rose garden tucked away behind this main park.
I saw that my favorite French lingerie store, Darjeeling, was having a sale earlier and stopped by there to pick up a few pieces. The wandered back home through the narrow streets.
Worked on my drawing at the apartment. So many tiny details in French architecture. Before I knew it, the sun had set and it was time to bundle up for the evening's shopping. Across town to the Monoprix and back through the dark streets.
We bought this strange green cheese at the market earlier in the day, scented with basil and other herbs. I made a cream sauce using some of the cheese to go with fresh pappardelle, green salad, bread and sausage on the side.
The kitchen here is so tiny, it feels like you're cooking on a boat. The finished sauce came out okay..the mint chip coloring was a little off-putting! We're working on planning the final leg of our journey this evening. Looks like maybe Vance will be our home starting Saturday?