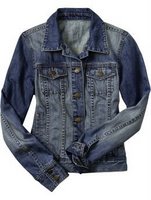 I can't believe it is raining outside right now. It feels like January through April all over again! And the forecast for the weekend? Even worse. Google broke out the "angry thunderstorm clouds" for the weather through Monday.
What's a girl to do? I think I'll buy some spring coats. Such as this adorable dotted coat from Nicole Miller or this wool coat from Kenneth Cole. A denim jacket would be a cute pairing with a skirt and a pair of rain boots.
Oh drat! Not even shopping for coats can make me feel better about the return of the rain.