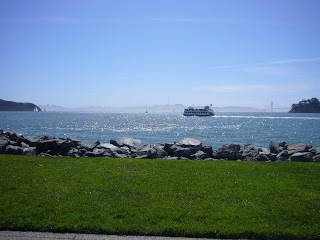 Weekend Round-Up: Life in 3D
Sunny weather made this weekend quite nice. Despite not being all that warm, the whole city seemed to vote that summer had arrived and demanded that we act accordingly.
Not much to report on Friday: I went shopping at Ross after work for some embroidery project supplies while Rob went to Critical Mass for the first time. Quiet dinner at home and to bed early.
I slept in on Saturday and went straight from pajamas to bike clothes. Rob and I pedaled through the park on our tandem to breakfast at Velo Rouge. From there, we rode over the Golden Gate Bridge (my least favorite part, bridges freak me out) through Sausalito, Mill Valley, Corte Madera, and over to the water on the East side of Tiburon via Paradise Loop. From Tiburon you have a lovely view of the city framed by Angel Island on the left and the bridge on the right (click to enlarge the photo – it's worth it):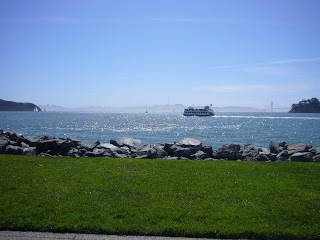 Got a bit lost in Tiburon and the Presideo on the way back. We made it home at 3:30, feeling fine with just a smidge under 50 miles as our total for the day. Not too shabby.
Almost exactly when we walked in the door, a friend from Sacramento called to ask if he and his girlfriend could stay at our apartment. Oh, and they were just crossing the Bay Bridge. A mad dash to clean before they came to get keys. They went straight off for dinner and the symphony.
Margaret came over as we were just finishing showering and getting dressed. We bought tickets online for Monsters vs. Aliens in IMAX 3D and took the subway downtown right before six. What a fun movie! The plot is decent enough, but it's the amazing 3D graphics on a 50 foot high screen that make it fun.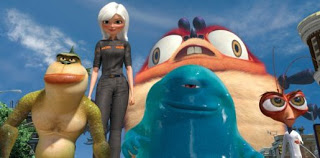 After the movie, the three of us walked over to farmerbrown, a trendy soul-food restaurant, for a cocktail. We ended up walking all the way home from there, enjoying the warm night. The friends from Sacramento got in around midnight.
The next morning, we played cards and had coffee while the full house woke up. Tangerine for brunch at ten. Mmm, eggs benedict. Our guests headed off to explore the city after brunch. Margaret, Rob and I went for a leisurely bike ride. I have a new bike from Rob and I'm trying to learn to be a better non-tandem rider. We pedaled throught the park and out to the Queen Wilhemina Tulip Garden.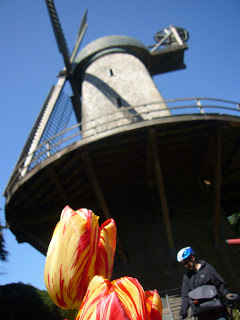 A nice bit of rest in the sun surrounded by tulips. We rode back through the crowded park. I didn't crash once! Laundry, a video and dinner as we prepared for the week ahead.