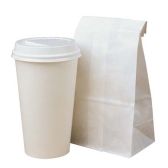 Tip: Decaf from Cafe Amici
Love lattes but hate paying the extra $2.00 vs a cup of coffee? If you got to Cafe Amici in Portrero Hill or the Financial District, order a cup of decaf coffee. They only keep a big pot of regular on hand and run decaf requests through the expresso machine. Add a little milk and you have a pretty decent latte for only $1.50.
PS: They have stopped carrying delicious, crunchy croissants at the cafe. Any good leads on where a San Francisco girl can pick up some authentic croissants?