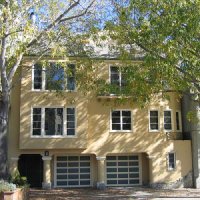 The weather is great here in San Francisco and city's mood has improved significantly. People are so much happier when it stops raining. It's been a great week in the city. Here are some things I learned:
A bright coral manicure from Dolci is a lot of fun.
I heart Jill Bliss.
Headbands! Week two of my obsession. I am now fixated on their root-covering function.
Trent and I made the world's best nachos on Monday. Soo delicious.
Men should never wear shorts to Yoga.
Construction paper is one of my favorite things.
They sell fragrance and dye free dryer sheets at Safeway.
A big painted flower pot is a great base for a bridal shower gift basket.
The fruit market on Divisidero and Page closes at 7:00 pm.
The Wishy Washy on Page Street has the worst change machines imaginable.
I heart Ross.
Don't underestimate the power of a homemade thank you note.
The bus is the best place to read the New Yorker.
I really should start using Next Bus again as a way to reduce my blood pressure.
Andouille bagel dogs from Noah's are really, really tasty.
Eat first, then play flip cup.
Happy end of the week to you! Enjoy the sunny weather this weekend!